SkyBell is designed to replace your current doorbell. SkyBell needs four (4) things in order to work:
1. Direct power from low voltage transformer.
SkyBell is designed to work with your current doorbell's low voltage transformer. The primary power standard to the transformer can be 120/130 VAC or 220/230/240 VAC. The secondary power from the transformer to SkyBell must be 16-36 VAC 10 VA. SkyBell can work with a 12 VDC power supply but you MUST use a 10ohm/10watt resistor on one connection between SkyBell and your power supply. Failure to do so will damage your SkyBell and automatically void your warranty.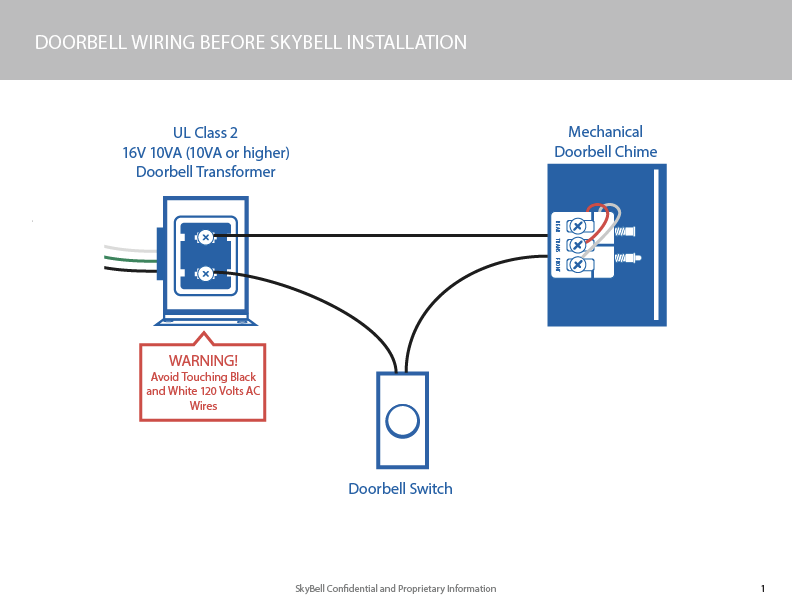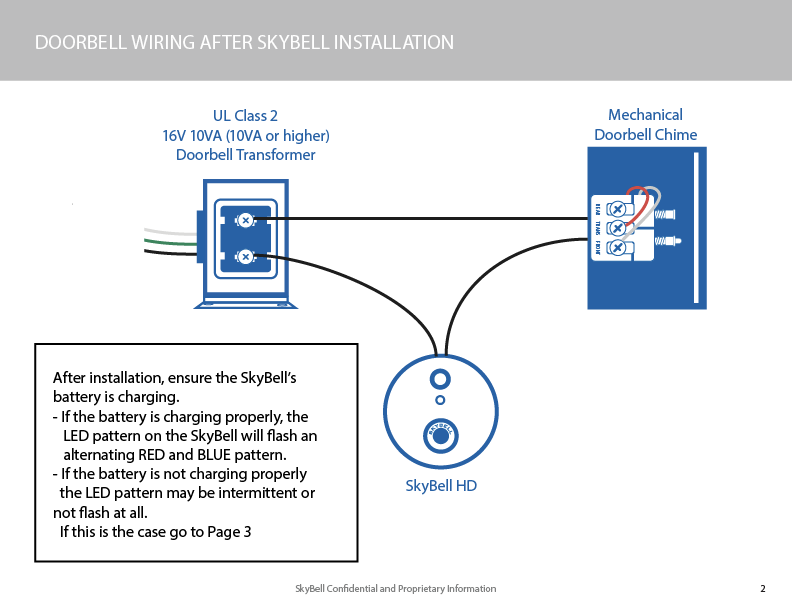 Do not connect both wires of SkyBell to a transformer or power supply without either a wired doorbell chime in series or a resistor. If you DO NOT use a doorbell chime, a 10 ohm / 10 watt resistor MUST BE USED in series between one connection of SkyBell and the power source.
2. WiFi Connection with full time internet.
SkyBell works best on 2.4 GHz wireless router connection with its own SSID. If you have a dual-band router, be sure to segregate your wireless channels and connect SkyBell to the 2.4 GHz channel.
Note: If you have a SkyBell Trim II Pro it will connect using a 5GHz WiFi network.
Need to know what model of SkyBell you have? Click Here.
SkyBell also requires that N-only routers be set to b/g or b/g/n settings and not "N-Only".
SkyBell works best on the 20 MHz bandwidth and with WPA2 security settings.
3. 1.5 mbps Wi-Fi Upload Speed.
For SkyBell to work the best, we recommend the SkyBell be placed in an area that receives a good Wi-Fi signal and at least 1.5 Mbps upload speeds and 1mbps download speeds. If you do not have enough Wi-Fi signal strength, you can move your router closer to your door or purchase a Wi-Fi range extender. To check your network's upload speed, please follow the Speed Test instructions.


4. Wired Doorbell Chime
SkyBell works with most mechanical and digital doorbell chimes. A mechanical doorbell chime does not require any additional effort (please see above for the power requirements). A digital doorbell chime requires the SkyBell Digital Doorbell Adapter, which is sold separately. The only way to know for sure if you have a mechanical door chime is through visual inspection. Digital doorbells often have a melody sound and you will see a speaker in your home.
Note: SkyBell is not compatible with wireless doorbell chimes or intercom systems.